Remote support allows me to work on your computer in your home or business without me having to physically be there. This service makes it so you do not have to be without your computer.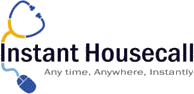 I use Instant Housecall™ as my software for my remote connection with your system. Instant Housecall utilizes state of the art remote support technology that insures your personal information is kept secure. Their software uses 128 bit, end to end, and SSL security. This means that your personal information is protected from potential threats from start to finish.
The system requires your permission before I can connect with your computer, so there are no worries that your computer is accessible to me without your knowledge.
Call me today to schedule your remote session!
When you are ready to set up a remote session, you must first install the Instant Housecall™ software on your computer. (If you have already installed my Instant Housecall™ software, there is no need to do that again.)
Click below to start the process.
"No need for you to be without your computer for days while it's being repaired. Often, I can just connect remotely and complete work without disrupting or disturbing you."